I chanced upon the rather excellent First Culinary Restaurant via a recommendation from a friend who is acquainted with the chef. It is hearty and full-flavoured Malaysian-style Chinese restaurant food, located strangely of all places in an ITE College.
Here are some of the star dishes that we tried. The
whole menu (including prices) is online
.
Kung Fu Roasted Duck
(S$15 for quarter; S$27 for half; S$50 for whole duck)
Interestingly, this roast duck comes with foie gras sauce at the bottom that adds incredible richness and complexity. I'm normally not a fan of duck, but this one was nicely done.
KL-style Char Siew
Whoa, look at the glistening chunks of fatty BBQ meat. I don't see this on the menu, so it could be new. While this is good, my favourite KL-style char siew is still the
Roast Paradise at Old Airport Road
.
Crispy Skin Roast Pork (S$14 per serving)
This is just as satisfying as roast pork from any of the major restaurants. It's got the requisite crispy brittle skin with tender juicy meat that isn't too fatty or too lean.
Hong Kong Style Steamed Soon Hock (seasonal price)
Live seafood is a big thing here. The fish is steamed just right - phew! It's always a shame when fish comes overcooked and dry, but that's not the case here. Now don't you just want to dig in to those tender cheeks?
Signature Garlic Beef Cubes
(S$18 for small; S$27 for medium; $36 for large)
Beef and garlic are always a match made in heaven. This stir-fry tastes as intensely savoury as it looks. It's a pity you can't escape the tenderiser that Chinese restaurants like to use, but it's not deployed excessively here.
Sauteed Prawns with Salted Egg Yolk
(S$18 for small; S$27 for medium; $36 for large)
You can have prawns done many ways here, but the salted egg yolk version is highly addictive. All the seafood here so far is really fresh. And the salted egg yolk here is done using real egg yolks, not the powdered version. You can taste the difference.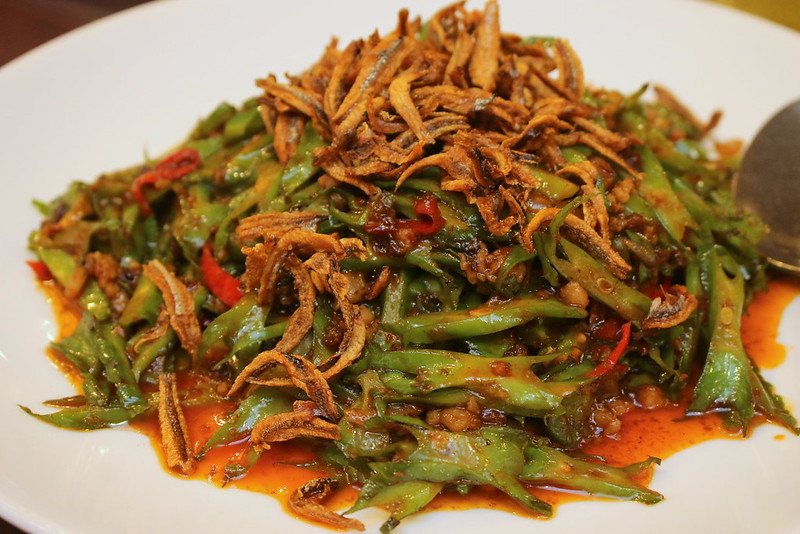 Sambal Wing Bean
(S$8 for small; S$12 for medium; S$16 for large)
Vegetables need not be an afterthought here. The sambal four-angled bean or wing bean with crispy anchovies is da bomb. I do love wing beans and spicy food, so I may be partial, but this dish with sambal is just awesome.
Imperial Crab
(seasonal price)
Wow, this claypot dish came piping hot and stayed hot for a long time! The steam just kept going, despite the air-conditioning. So you can imagine the wok hei. The crab seems to be dry-fried with a lot of aromatics - ginger, scallions, onions, garlic, chilies and possibly turmeric or curry powder - along with dried shrimp, bean paste and herbs. The resulting flavours reminds me a little of the Malaysian "kam heong" (金香 or golden fragrance) style. Definitely a worthy signature dish.
Vermicelli with Sliced Red Garouper and Bittergourd
Just when we thought we couldn't eat anymore came this innocuous looking white beehoon dish. It won us all over at first bite. The vermicelli had soaked up all the fabulous flavours. This was one of our favourite dishes out of the lot. Again, probably new because it's not on the online menu. But this is a must-try.
The other thing that caught my attention is that the Teochew Fried Hor Fun! Oooh, this simple dish with chye poh (preserved radish/turnip) is like horfun meets carrot cake! I don't see this often in my area. So this is something I certainly want to try next time I'm here.
ITE may not be the first place you think of for good food, but First Culinary is a nice hidden gem. The restaurant also serves dim sum for lunch and caters for large events and weddings.
FIRST CULINARY RESTAURANT
2 Ang Mo Kio Drive, ITE College Central
#01-09 Stall No. Block A
Singapore 567720
Tel: +65 6481-5500
Open daily
Mon – Sun: 10:30am to 3:00pm (lunch); 5:30pm – 10:00pm (dinner)