I am such a sucker for sakura designs. The ethereal Japanese cherry blossom is the symbol of transient life and appreciation of the moment.
Starbucks has just released drinkware in blooming pink with watercolour-like prints. They are so pretty.
Tumblers and bottles in the Petal Rain series, from left to right:
12oz: S$25.90
12oz: S$22.90
16oz: S$22.90
16oz: S$21.90
Blush
Left, 16oz: S$36.90
Right, 16oz: S$42.90
Blossom Rain
Both designs, 16oz: S$29.90 each
Pouch (comes with fabric marker): S$9.90
Tumbler 16oz: S$29.90
Green Tea Blossom Cake
Light, fluffy green tea sponge cake sitting between layers of luscious cherry blossom flavored cream. A sprinkle of dried rose petals completes the gorgeous cake.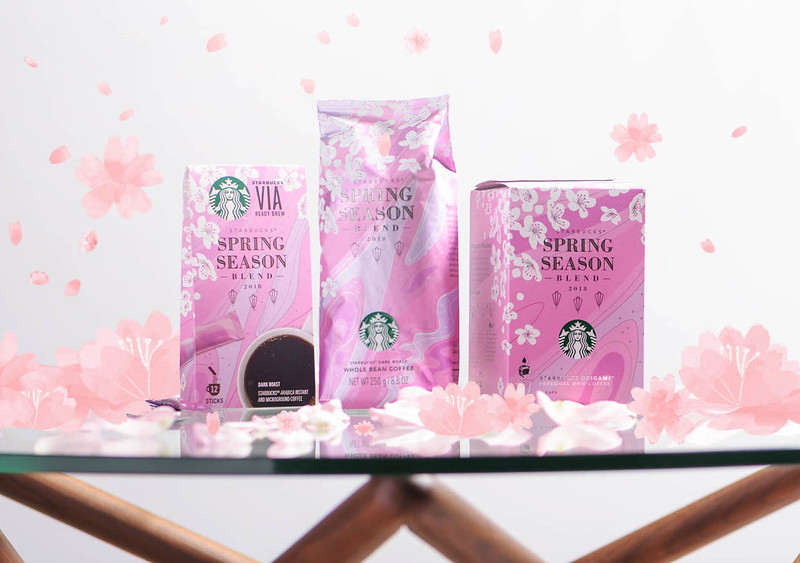 NEW! Spring Season Blend (250gm, S$16.90)
Starbucks® has also introduced its Spring Season Blend celebrating a time of year marked by new beginnings and renewal. It's got dark cherry notes and a big syrupy body, also available in VIA and Origami formats.
This seasonal blend combines Ethiopian sun-dried beans with a striking flourish of dark cherry; aged Sumatra, loved for its syrupy body and cedary spice notes; juicy herbal and complex coffees from Papua New Guinea; and Colombian coffee, bright, balanced and nutty.
Also launching as part of the Starbucks® Single Origin Series is the Papua New Guinea Highlands roasty sweet with subtle spice and herbal complexity.
I never drink Starbucks coffee but the Spring Season Blend has me curious. If any of you like it, do let me know!

All photos courtesy of Starbucks