With Avengers storming the theatres with Age of Ultron, it seems we can't get enough of the Marvel (and indeed DC) superhero realms. If you're a fan and want a bigger infusion in your daily life, you need to check out
Hungry Heroes
at 33 Tessensohn Road.
"We feed heroes," they say, and what do heroes like to eat? Meat. Lots and lots of meat, apparently. Classic pulled pork, 150-day grass-fed tenderloin, ribeye and lamb rack. Hey, protein for them muscles, and energy for saving the world. I can't argue.
Upon entering the shophouse eatery, you'll be greeted by an entire wall decked out with key superhero action figures from the owners' personal collection.
It's not a large space; it seats only around 50. They opened late last year, and won an ardent following despite the location (near the Civil Service Club, where Lavender Street meets Balestier Road).
On the other side, framed vintage comics and posters abound. There is memorabilia everywhere you look.
I love the Japanese posters...they just seem that more cool and stylish!
Wall sconces never looked this cool!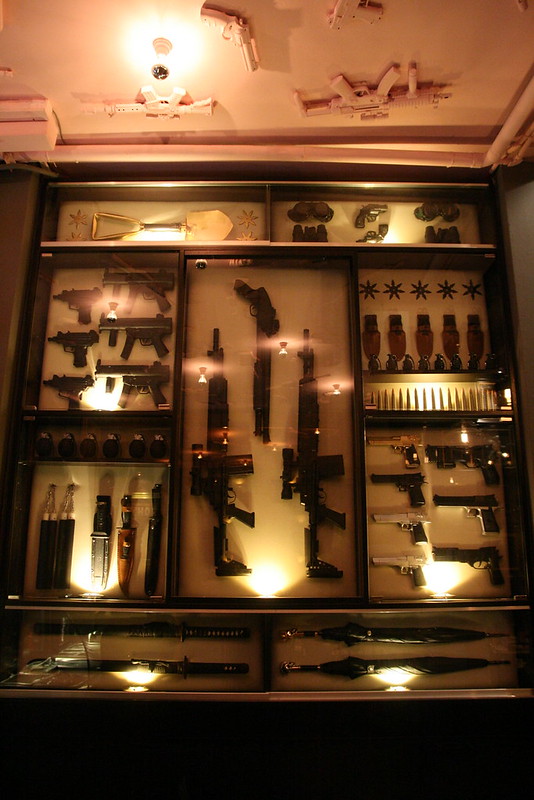 There's even a display cabinet of gun replicas and weapons; these are even plastered all over the ceiling but painted over to blend in. Next time, I am bringing my ex-Green Beret friend here to get a primer on what's what.
"
Doth mother know you weareth her drapes?
"
By far the most impressive items here - the lifesize (or larger than life?) figures of Thor, Captain America and Ironman holding court above the bar area (as seen in first photo). It's a pretty good likeness of Chris Hemsworth. I tried to find out where to get these and how much they cost. Well, you'd better be ready to plonk down close to a five-figure sum to order and ship something of this quality.
But onto the food...I'm sure you're hungry.
They have a hot deli counter serving ready-to-eat items, as well as a cold deli showcase of premium meats. Diners are welcome to pick out their preferred cuts and types of meats to be cooked a la minute.
If you're in a group, they have Hungry Heroes Platters in various configurations for sharing.
The Steak-out (S$118, serves 5 to 6)
200gm ribeye, full rack pork ribs, pulled pork, sausage trio, 250gm de-boned chicken leg, beef stew, veal osso bucco, served with choice of roasted potatoes or fries
That's quite a pile to work through, but oh what joy to do so. Love the sausages, ribs and tender pulled pork. Some grilled vegetables, gherkins and sauerkraut helped to balance all that meat. The sauces are all made inhouse, and made for interesting dips.
Nice to Meat You (S$62, serves 3 to 4)
Half rack pork ribs, 200gm sirloin, 250gm de-boned chicken leg, pulled pork, served with choice of roasted potatoes or fries
A more manageable feast for a more cosy group. The twice-cooked pork ribs are probably the highlight. They are braised over low heat before being glazed with house marinades. A final round in the oven seals in the juices.
A la minute grilled meats include
Tenderloin (150 day grass fed; S$42 for 300g)
- I truly enjoyed the excellent fries, yes, almost more than the steak itself.
Light Bites and Side Dishes include
Luncheon Chips (S$6)
which are amazingly light and non-greasy (we were all asking "how do they do it!?") and
Truffle Mash Potato (S$7)
which is beautifully smooth.
Bottled Craft Beers and Ciders
These guys also run a tight craft beer program to go with the menu. The Rogue Mocha Porter (S$13) won the Gold Medal at the World Beer Championships some years back, and goes best with grilled and smoked foods. We tried various items like Jacob's Ladder (S$12) and Albens Fine English Cider (S$13).
Alska Strawberry & Lime Cider (S$15)
This was light and fruity, very pleasant and easy to drink.
Hitachino Espresso Stout (S$15)
Whoa coffee in stout. I'm not a fan of stout, so I can't really judge.
Upstairs at "
Art Art & Away
", there is more dining space with quirky furniture, paintings and prints, decor lighting and home decor collectibles. Everything you see here is for sale.
They do artisanal framing services for much lower than expected. There are more than 100 types of frames with different styles, designs, colours and sizes. I love the bold statement frames. This one is sitting at home with me.
You have to come see the washroom. Pretty trippy, and even has a polar bear faucet. I won't show you, you have to come see it.
Hungry Heroes and Art, Art & Away combine two concepts in one fun and quirky venue. Besides a hearty dinner, you can shop for novel decorative art and home furnishing products you won't easily find in other retail stores.
HUNGRY HEROES
33 Tessensohn Road
Singapore 217656
Tel: +65 6295-5401 (enquiries only, no reservations)
OPENING HOURS
Mon–Thu: 4pm-11pm
Fri & Eve of PH: 4pm-12am
Sat: 12pm-12am
Sun & PH: 12pm-11pm