I have a new toy! The
Philips Avance Collection Noodle Maker
(S$329) now takes pride of place next to my Philips AirFryer on my kitchen countertop. It means a lot, because my countertop space is limited, so only frequently used items can earn a place there.
I was initially skeptical about how good the noodles could be, you know, from a machine. We made our first batch of ramen noodles above (250g bread flour, 90ml water, 3g salt), and we were stunned. The noodles turned out fresh-tasting with good texture. And it took less than 10 minutes to make!
The Philips Noodle Maker has four shaping discs, so you can make noodles of various thicknesses and shapes - mee kia/angel hair, spaghetti, mee pok/fettucine, ribbed penne. I love the convenient storage drawer which holds all these and the disc cleaners. There are two handy measuring cups; one is for flour, another for water, to help you mix both at the right ratio.
I couldn't believe it was just three simple steps - pour in the flour, pour in the water, and the machine will do the rest! You can adjust the kneading time (5-8 minutes) for noodle texture - longer for more bouncy or QQ chew.
When it is mixing, it may look dry, but that's actually fine! Don't be tempted to add water; ironically wetter dough is more difficult to extrude.
It does make beautiful noodles. These are egg noodles (one egg added to the water portion). You can get creative with colours and flavours. Use carrot juice, beetroot juice, spinach puree, pumpkin, pea shoot flower (bunga telang, used for dying nonya kueh blue) and you'll have a rainbow assortment!
I could not wait to try seaweed and dried sole fish (ti po) in the noodles.
For the seaweed noodles, I pulverized two large sheets of roasted nori in a blender, and added it to the flour. For the water, I used dashi stock. You can use the powdered form for convenience, maybe 10g per 90ml. You can omit the salt normally required for the noodles. The noodles still turned out pretty mild, so I might increase the seaweed and dashi quotient.
I made seaweed peperoncino with lots of garlic, chili padi and squeeze of lemon juice, but found the noodles did better in seaweed soup with vegetables. With extra seaweed! I lurrrve seaweed!
Hey, both dishes are vegetarian-friendly too.
My older girl
Nadine
, 8, has started using my DSLR (in addition to my iPhone and iPad cameras). She is quite the photography fiend, filling up my album space with all sorts of random shots! She can hold the camera quite well. Picture is still blurry but I'm already impressed. Not bad for a kid with special needs.
Next up, the experiment with dried sole fish (ti po), which is often used to add umami kick to stir-fries and noodle dishes.
Grill/Fry these flavoursome gems til golden brown. Resist chomping on them as they emerge crispy. Pound them into powder form and add to the flour. Mix well. I used about 50g fish per 250g flour, and omitted the salt.
Oooh, the egg noodles smelt great when they came out. But the ti po flavour is still quite subtle and not overpowering. So they can be paired with almost anything.
The noodles cook really quickly. Just a par-boil, and they are ready. I tossed them dry-style with a dressing made from oyster sauce, chili sauce, soy sauce, dark caramel soy or kicap manis, plus a dash sesame oil. Add whatever toppings you like - here I have roast pork, shrimp dumplings and some lettuce.
There are so many variations to play with. I would have liked to try karasumi or dried mullet roe ideally but maybe that's still better shaved on top of the noodles. You can also experiment with organic wholemeal flour for healthier noodles, and semolina for pasta.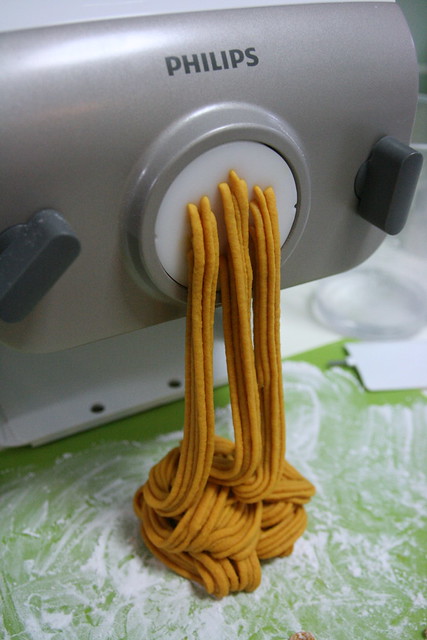 We even tried to make muruku! But the machine is too powerful with its kneading, so the dough was overworked and turned out too brittle when fried. Next time maybe we will use the lowest setting or just hand mix and use the extrusion feature.
Here's Nadine. She and Jolie both LOVE noodles, so they are over the moon that we can make our own. "Can we have these noodles forever?"
So it's been a pleasant discovery with the Philips Noodle Maker. This is like Play-Doh but infinitely more fun, cos it makes tasty stuff you can actually eat!
Anytime we want, we can have noodles. Freshly made, with no preservatives! Definitely healthier than instant noodles too. Cleaning up was easier than thought - just leave the dough to dry out and it comes off much more easily. The machine also comes with a handy booklet of popular recipes - from mee goreng to squid ink pasta - all well photographed. Very awesome.
Oh, Lunar New Year is coming...now we can have homemade noodles for steamboat too!
And Philips is giving away a set of utensils (see pic, upper right) for one lucky reader who shares this post. Comment below with your shared link, or go to my
Instagram
or
Facebook post
to like/share/comment. I will pick a winner end today (Monday, 19 Jan 2015) by random draw. Contest open to residents of Singapore.
Many thanks to Philips Singapore for sponsoring the machine.